Huni & Scout puppies...
Macumazahn Rhodesian Ridgebacks
We are proud to be in close association with Paula Edgar to raise and present the latest *MACUMAZAHN* babies.
Huni's puppies were born on 21st September, 2005
4 males & 3 females....
SIRE: NCh,DKCh,FCh,LCh,NordCh,NW 2001&2002,
Int Ch Ukukhanya Scout The Red Baron
Huni aka: Aust Champion Macumazahn Cool As Ice
Daughter of Best in Specialty Shows *ICE* AuCh Macumazahn Tragicaly Hip ET
Litter sister to Australian National Runner up Best in Show *KUBE* Au Ch Macumazahn Kube Of Ice ET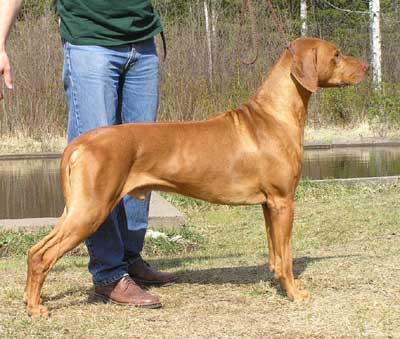 *SCOUT*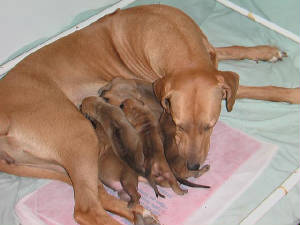 All puppies have new homes and are settling into hearts beautifully.
Remaining at home is "Rune" Macumazahn Nordic Viking (ai) Who will be shown here in the West by me and at specialties by Paula. He is a very forward, outgoing puppy. Already providing great entertainment from his antics.
1 week old